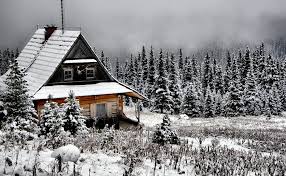 Before long, frigid temperatures, high winds, snow, sleet and ice will all arrive to Northeast region of the country; so now is the time to ensure your home is prepared for intense wintry conditions. Without doing so, you'll run the risk of having to deal with serious property damage throughout the colder months ahead.
Considering the bone-chilling weather that's quickly approaching and the amount of money that you'll be spending during the holiday season, there couldn't be a more inconvenient time of the year for a loss to occur than at some point during the winter. Here are five ways to make sure your home is prepared for whatever Old Man Winter throws your way:
1. Contact tree experts and ask them to perform an inspection of all your trees. They'll check to see if any them are dead and need to be taken down, or if there are any weak branches that might have to be trimmed.
2. Climb up and inspect your roof or contact a company to do it for you; either way, it's important to make sure your roof is structurally sound to withstand intense winds, heavy snow and other precipitation. Make sure the gutters, shingles, flashing and rafters are all in order.
3. Take a walk around your home and inspect your siding. If you notice that any of the panels are missing, unsecured or completely hanging away from your home, make sure necessary repairs are completed to ensure the protection of your home's exterior.
4. Clear any loose objects around your yard that could potentially get tossed around by heavy winds and cause damage to your property or any of those around you. Tuck them away safely somewhere inside of your home, garage or shed.
5. If you haven't done so already, retract or remove your awning so that snow and other precipitation doesn't weigh it down and cause damage to the frame or a section of your home.
Take the proactive measures necessary to prevent property damage this winter! Even if you follow these tips to help protect your home as Old Man Winter approaches, some damages are just unavoidable. If you still end up experiencing a loss, contact a claims adjustor in Philadelphia and its surrounding areas right away to help you file a claim. They'll ensure you receive the coverage that you rightfully deserve!
Learn more about public adjusters in Bensalem and its surrounding areas by visiting our homepage.