Out of all of the roof types the flat roof is the most controversial. It is mostly used on large buildings, outbuildings, and on Philadelphia twin and row homes The flat roof has its own challenges and needs. However, there are some pros to having a flat roof on a home.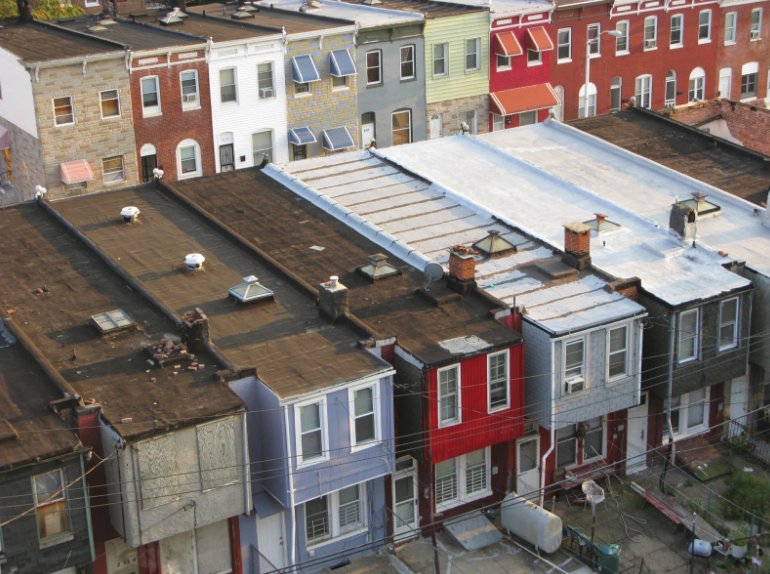 Advantages
There are several advantages to having a flat roof. They are affordable, offer more useable space, and provide better accessibility to the roof for cleaning and repairs.
–Affordable – The initial building, installation, and materials used to cover the roof are fairly cheap. Many of the materials used are about $0.80 a foot, which makes a flat roof extremely affordable. The upkeep of a flat roof is generally cheaper as well.
–Use of Space – After a flat roof is completed you can now use the space. Most people take their air-conditioning units off the ground and place them on the roof, freeing up ground space and general eyes sores. Homeowners could use the space to install solar panels or plant a garden.
–Versatility Inside the Home – Like the use of the outside space created by this type of roof, a flat roof also gives more room inside of the home as well. Without a pitched roof, a homeowner can now use the attic space as a living space. This is something to consider for a home that needs the maximum amount of space available.
-Accessibility – Flat roofs are generally more accessible than sloped roofs. This ease of access makes it easier and cheaper to clean gutter, make repairs, and install things like satellite dishes and solar panels.
Disadvantages:
However, with anything there are some disadvantages to a flat roof. Flat roofs have poor drainage and there are not a lot of options for materials to be used.
–Drainage – One of the biggest disadvantages of a flat roof is the lack of drainage. While a flat roof does drain, it does not do so quite as efficiently as a traditional sloped roof. Thus, water can puddle and remain on the roof which could cause a breakdown of the building/roofing materials or cause leaks around the seams.
–Materials – The second disadvantage is the lack of option in roofing materials. Most flat roofs use a rolled roofing. While these materials are fairly inexpensive and easy to install most of these rolled roofs have a lifespan of 10 to 15 years. Homeowners can choose to use rubber shingles as well as the rolled roof and new materials are becoming available on the market for flat roofs. However, these new materials are more expensive and do not have the type of history to allow people to predict how long they last.
Types of Materials
Flat roofs themselves have several advantages and disadvantages. One thing that is both an advantage and a disadvantage is the materials. While materials may be cheap there are very limited options. Each material that can be used also has their own advantages and disadvantages.
–Membrane or "Single-Ply" Roofing – This material is made from recycled rubber materials which makes it environmentally friendly. This material also helps to insulate the roof and attic of the home, thus cutting down on heating and cooling of the home. Repairs are relatively simple and cheap. Some other notable features of this type of roof are:
-The lifespan is about 15 to 20 years.
-Leaks are rare and material is durable.
-However, this type of material needs to be installed by a professional and can be costly. Exterior features like pipes and HVAC units can cause leaks if not properly flashed.
–Built-Up Roofing (BUR) – BUR used tar and gravel and creates a watertight layer over the roof. While this roofing material may be expensive it has a long lifespan, provides a thick coverage for the roof deck, and has a high resistance to wind. Some other features of this type are:
-The roof decking does not need reinforcement as the material is lightweight.
-Lifespan of 10 to 15 years with good maintenance.
-Provides good protection against water, UV rays, and severe weather.
-Material is low maintenance.
-However, the installation takes a long time, there are potentially hazardous fumes during installation, material is heavy and requires joists to be strengthened. It is also hard to find the source of a leak with this type of roof.
–Bitumen Roofing – This material takes the tar and gravel of the BUR roof and applies it to cap sheets that are polymer reinforced for strength and durability. Some notable features of the roof are as follows:
-Consistent application.
-Less complex to install than BUR.
-Low in cost and maintenance.
-Recyclable at the end of its lifespan.
-However, some installation techniques require open flame which could endanger the house if not used correctly. The joints must also be installed correctly to prevent leaks.
If have suffered damage to your roof then give us a call today!. We offer a free consultation with a public adjuster in New Jersey, PA, DE or MD by filling out a contact form on our website, or by calling 1(800) 410-5054 today
About AAA Public Adjusters
AAA Public Adjusters, LLC, is a property loss consulting firm headquartered in Philadelphia, PA. Additional offices are located throughout Pennsylvania, New Jersey, Florida, Maryland, Delaware, Virginia, and North Carolina. AAA Public Adjusters have been fighting insurance companies for over 25 years. AAA Public Adjusters, Maximizing Your Claim!