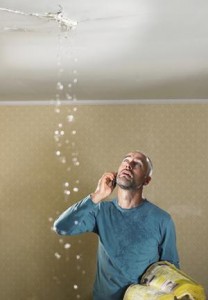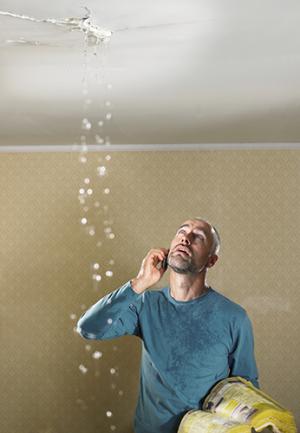 Staying positive after experiencing property damage certainly ain't easy…Let's say a broken tree branch fell on your new addition during a summer thunderstorm. Or maybe frozen pipes busted in the middle of winter, violently spewing freezing cold water all over your living room. Perhaps some of the siding that you installed four years ago peeled away from your home as strong gusts of wind swept through. Your shadowbox fence may have gotten wrecked during a grad party at your neighbors' while you were down the shore. Or you probably never realized that your roof was in poor condition until you walked through your front door and a drop of water landed on the top of your head.
With today's tight economy, destruction to your home is probably your worst nightmare. It's likely the most valuable, expensive and important asset that you've ever acquired. Not only does buying a house and paying a mortgage cost a boatload of money in the long run, but the maintenance (both inside and out) is no joke! From exterior features like a shed, patio, porch, deck, driveway and the entire landscaping, to interior objects, items and aspects of your home that you'll need to paint, clean, fix, install, overhaul and renovate—your property requires serious maintenance no matter what, and the To-Do List will never ever end…
In order to keep your home in great shape and ensure its longevity, you have to nurture it, give it attention and provide it with what it needs to survive. Your home is your baby and there's no doubt that you have to Love It for it to thrive. So if you do all those things to ensure its integrity for the many years to come—whether you want to eventually sell it and move somewhere else or live there 'till you die— and something terrible happens to the structure itself, you better make damn sure that you receive the compensation that you deserve for the damages.
When you pour your heart and soul into your home and spend money for services from contractors or give up many weekends out of the year for Do-It-Yourself projects, yet, your insurance company is saying that they're not going to cover a particular loss, it's time to bring in back up. When you contact reputable public adjusters near Mount Laurel, NJ, like AAA Public Adjusters, LLC, you can rest assured that you'll receive a suitable payment for any damages that you're protected against in your policy. Whether an insurer is failing to communicate effectively with you and beating around the bush, or is simply insisting that a loss doesn't fall under your coverage when it obviously does—no worries, the professionals will get to the bottom of it.
Public adjusters near Philadelphia have the Philly Fight in 'em and don't take any BS from insurance companies that are deliberately trying to hold out on insurance payments. If you're not familiar with the insurance world, a lack of industry knowledge might lead to your insurance agency taking advantage of you! Public adjusters will help you to see things clearly, as well as let your insurance agency know the deal—that coverage for particular damages must be recognized and distributed if and when damages take place. Remember, your home is your most important asset and don't ever let an insurance agent make you believe that you're not covered for something that you actually are. Don't mess around when it's time to collect what you deserve. Get ahold of a public adjuster and let them have your back! They'll help you see the light at the end of the tunnel.