Posted on October 10, 2013 @ 9:10 AM EST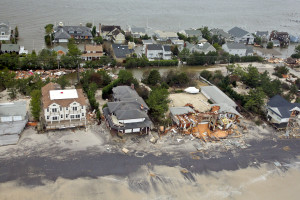 Expect Rain, Blustery Winds, Beach Erosion from East Coast Storm
The cold front that brought tornadoes to the Midwest last Friday and severe weather to the Northeast on Monday has stalled off the East Coast. It's become entangled with a weak area of low pressure, the echo of what used to be Tropical Storm Karen over the Gulf of Mexico.
At the same time, zones of high pressure are camped out north and east of this disturbance. Together, these two persistent surface pressure features will remain parked along the East Coast for the next several days.
Kathy Orr (@KathyOrrCBS3) tweeted a photo of the rainy day in Philadelphia:
A grey, damp, day in Philly. pic.twitter.com/xJA8hzJADf

— Kathy Orr (@KathyOrrCBS3) October 10, 2013
Anticipated Impact:
With the low hovering just offshore, and strong high pressure to the north, nearby coastal areas will be dealing with bands of rain and blustery onshore winds. The fetch of onshore winds will cause some problems along the coast.
Forecasters say minor to moderate coastal flooding is possible from a slow-moving nor'easter that's bringing periods of wind-driven heavy rain to New Jersey. "A weak area of low pressure moving slowly along the East Coast in combination with high pressure to north over New England and eastern Canada is producing an onshore wind flow from the Outer Banks of North Carolina to the Middle Atlantic coast," said weather.com meteorologist Chris Dolce. "As a result, this stretch of the coastline will see gusty winds, high surf, beach erosion, minor coastal flooding and periods of rain through late-week."
Tips to Prepare for the Coming East Coast Storm:
Prepare your home for the Nor'easter slamming the US East Coast this coming weekend. If you suffer damage to your home, business premises, or business operations from the inclement weather, and have insurance, call us (or click here) for a Free Consultation.
Source: Weather.com