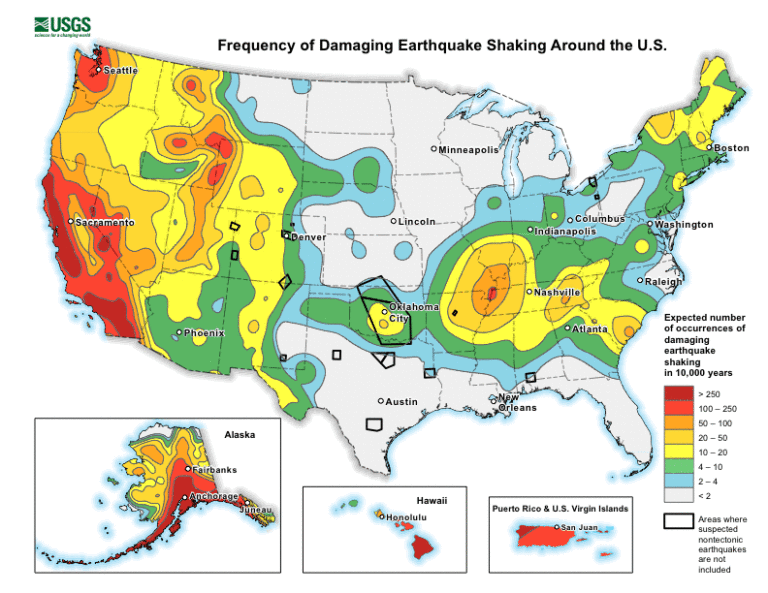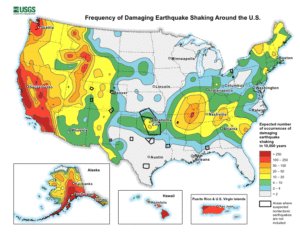 The United States experiences only 2% of the world's earthquakes. However, nearly 90% of the population in the United States lives along seismically active areas. In the United States, 42 states are at risk of experiencing earthquakes. Earthquakes are not typically covered in a standard homeowners' or business insurance policy. Like with flood, homeowners in at risk areas need to purchase separate earthquake insurance.
Damage Caused by Earthquakes:
Earthquakes can cause many different types of damage to buildings. However, an earthquake can also set off other catastrophic natural disasters that could cause more damage.
– Partial or total deconstruction of buildings
– Building collapse
– Structural damage to buildings that make the building unsafe to inhabit
– Structural damage to additional structures on the property
– Damage to other property and landscaping
– Explosions
– Fires
– Gas leaks
– Landslides
– Avalanches
– Flash floods
– Tsunamis
Pros of Having Earthquake Insurance:
– If a home is damaged by an earthquake, repairs or reconstruction would be covered under this insurance.
– Earthquake insurance typically costs less in areas of lower risk. If you live in an area that is in a lower risk area you may be able to find earthquake insurance for cheap. Which might be worth it for potential peace of mind.
– If a home is uninhabitable due to an earthquake, then the insurance company may pay for additional living expenses. This means that the insurance company will pay for you to live somewhere else while your home is being repaired or rebuilt.
Cons of Having Earthquake Insurance:
– Insurance can be expensive in areas of high risk. This could be a deciding factor in buying earthquake insurance. It is estimated that only 10% of Californians buy earthquake insurance.
– Earthquake insurance has high deductibles to pay. The damages rarely exceed these deductibles.
Many homeowners in high risk areas take a chance and do not buy earthquake insurance because it is expensive and, in their mind, not worth it. However, because of the damages that earthquakes cause and the other disasters that they can set off, one would think that having earthquake coverage in a high-risk area would be worth it.
If have insurance and have experienced damage from an earthquake or natural events caused by the earthquake, then give us a call today!. We offer a free consultation with a public adjuster in New Jersey, PA, DE or MD by filling out a contact form on our website, or by calling 1(800) 410-5054 today
About AAA Public Adjusters
AAA Public Adjusters, LLC, is a property loss consulting firm headquartered in Philadelphia, PA. Additional offices are located throughout Pennsylvania, New Jersey, Florida, Maryland, Delaware, Virginia, and North Carolina. AAA Public Adjusters have been fighting insurance companies for over 25 years. AAA Public Adjusters, Maximizing Your Claim!