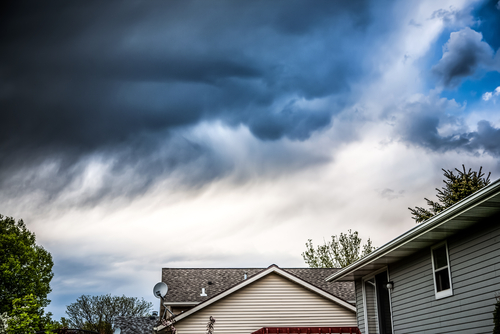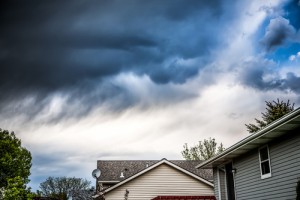 As the transitional season of spring gets underway, keep in mind there's a large possibility of severe thunderstorms, high winds and tornados before the warmer weather is here to stay. To help ensure your home is protected from property damage throughout the weeks ahead, our public adjusters near Bristol, PA and its surrounding areas, would like to share eight ways you can help prevent storm damage this spring:
Clean gutters, drains and downspouts to clear out all the debris that has formed blockages and prevents your roof from draining correctly. Make sure you check for any damage due to ice and snow, and that all connections are securely set in place.
Inspect your siding and roof for damage, so that parts of your home aren't destroyed by unnoticeable or seemingly harmless leaks. Wind-driven water can navigate its way under cracked or peeling caulk, lose or missing shingles, and even chipped or peeling paint. If your roof is older, or your home had endured an especially stormy winter, it's best to call in an expert to inspect your roof for you.
Make sure your sump pump is working correctly, so you can have confidence that it's fully operational in case a severe storm leads to serious flooding. And you might want to buy a backup battery if your neighborhood has dealt with power outages in the past.
Check the trees around your property for damage, so you can identify any potential hazards brought on by destructive, wintry conditions. Look closely to see if any dead or weak branches are within "falling distance" of your driveway, home, utility lines or any other structures on your property. If you're skeptical about any of the branches, or even the trees, contact either an arborist or the service company to trim around the power lines.
Keep an eye out for loose wires or damaged utility poles. If any of the power lines around your home are hanging low, or the poles look like they're leaning or simply unsecured in the ground, this is also a time in which you should contact the service company. With so many poles and wires positioned throughout the community, they can't keep track of them all. And don't be mistaken; they don't want them coming down any more than you do. So, make that call and gain some peace of mind about the protection of you, your family and your home.
Look out for signs of animal infestation. During the winter, wild animals may have crawled their way into your warm, cozy home. Check to see if there are any signs of mice, raccoons, birds or bats. It's important to notice entry holes near eves or close to the ground, drilling areas from insects or birds, chew marks on wiring or wood, or shredded materials near the foundation. You should also check your crawl spaces and attics for animal droppings.
Watch out for cracks in your foundation or walkways that may have been caused by winter's freeze/thaw cycle, which usually causes a lot of problems with concrete. This can lead to serious leaks or potentially dangerous structural damage in foundations, or create hazardous cracks along walkways or steps.
Secure outdoor furniture and fixtures, so they don't go flying away when heavy gusts from spring storms pass through. These items can easily become dangerous projectiles in high winds—not only for you, but also your neighbors.
Take preventative measures now to save significant time, money and trouble this spring!
If you experience a loss this spring, despite doing everything you could to prevent property damage, contact public adjusters in NJ, PA, DE or MD to help you file your claim correctly. For a free consultation, fill out a contact form on our website or call 1(800) 410-5054 to speak with a professional today!